Shop Genuine Ford Parts for Sale in Monticello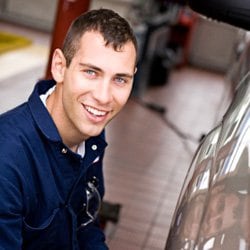 If you have a DIY project planned for your Ford vehicle, having the right parts for the job can mean the difference between success and failure. That's why we recommend choosing OEM parts from our expansive inventory of top-notch car components. OEM parts are designed for your specific crossover, SUV or truck model to ensure a perfect fit and optimal performance. Our parts experts at Rea-Ford-Lincoln Inc. are ready to answer questions and help you hunt for the perfect parts for your next project, so please feel free to reach out.
Learn More About the Perks of Picking Genuine Ford Parts?
Now, there's plenty of auto parts stores around your local area, so you might rightly wonder, "Why come to Rea-Ford-Lincoln Inc. when I could just go to my local shop for parts?" Well, unlike the generic parts you'll find for sale at other auto parts stores, our genuine Ford parts are backed by the Original Equipment Manufacturer, meaning they're the same components used to produce your crossover, SUV or truck in the first place. Our genuine Ford parts are guaranteed to fit your vehicle, so there's no need to fret over functionality ever again.
Rea-Ford-Lincoln Inc. is Ready to Help You Find the Parts You Need
If you know what parts your crossover, SUV or truck needs, you can fill out our online parts order form. It's the quick and easiest method to order the Ford parts for your next project. If you're not sure what you need or you just have questions in general, give us a call and our experts will assist you in finding the part you need to get the job done right.